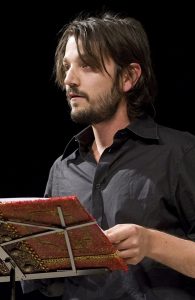 Mexican actor Diego Luna is not only recognized for his charm, but for his undeniable talents as well. Naturally, he started his acting career in Mexico. He starred in telenovelas and Mexican films during his initial years. He first gained international attention for starring in the Mexican feature Y tu mamá también. He next played Alex in the bio drama Frida. His first starring role in Hollywood was in Dirty Dancing: Havana Nights. He became further known for his supporting role in The Terminal starring Tom Hanks. He had another supporting role in Milk, which stars Sean Penn. In the 2010s, he starred in the films Contraband, Elysium, and Blood Father. His upcoming films are Rogue One: A Star Wars Story and Flatliners.
The 37-year-old actor may be nearing his 40s, but he surely looks younger than that. The actor manages to give the impression of strength and masculinity without the need to fully bulk up. He's got an average body, but it's apparent that he's lean, fit, and totally healthy. The actor acknowledges the fact that he needs to take care of himself as he gets older. For this reason, he not only eats right, but also exercises regularly. Despite his busy career, he manages to go to the gym to work out.
When he's too busy to go to the gym, he tries his best to perform cardio instead wherever he can. He enjoys running, swimming, and trekking. He makes efforts to be active with his lifestyle. Being an actor requires him to do things physically. This alone is already an exercise. It's great that for the actor, working out is not something that burdens or tires him. It's actually the opposite. When he works out, he feels good. Of course, the long-term effect is strength and overall fitness.