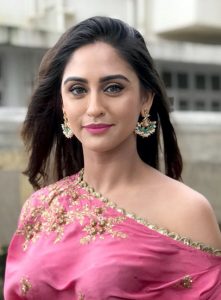 In 2007, Indian actress Krystle D'Souza first appeared in the television series Kahe Naa Kahe. That same year, she also starred in the Indian TV drama Kya Dill Mein Hai. After this, she made her film debut appearing as herself in the Bollywood feature C Kkompany. She also appeared in the show Kasturi, as well as joined the main cast of the TV drama Kis Desh Mein Hai Meraa Dil.
She later had performances in the TV programs Baat Hamari Pakki Hai and Aahat. In the 2010s, the actress continued her prolific television career. She had main roles in such TV shows as Ek Hazaaron Mein Meri Behna Hai, Ekk Nayi Pehchaan, and Brahmarakshas-Jaag Utha Shaitaan. She also competed in the sports reality series Box Cricket League. She then appeared in the comedy show Belan Wali Bahu. D'Souza's latest role was in the web series Fittrat.
Krystle D'Souza finds it hard to find the time to work out but she tries her best. After all, she needs to keep her body fit and strong. "With hectic shoot schedules, I don't really get time to go to the gym. But working for so many hours helps in the workout," said the actress. "Maintaining your body is a lot of hard work. I believe in doing yoga and do Vajrasana for 20 minutes after every meal. I also do cardio exercise to lose fat."
As for her fitness advice, she said: "Eating at regular intervals in small amounts and not starving yourself is the key to maintaining your figures." For the actress, exercising isn't just about losing those extra pounds, it's also about increasing her strength and improving her posture. More importantly, working out on a regular basis also makes her feel good from the inside out, which is something that's essential for her.