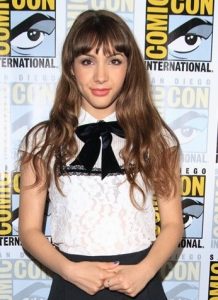 Hollywood star Hannah Marks had her career beginnings in the mid-2000s. She debuted in the 2005 film Doll Graveyard. She also had her first television appearance on Numb3rs. She next starred in the movies Danika and Accepted, both released in 2006. During this period, she had one-time roles on various shows, including Criminal Minds, Heartland, Private Practice, and Ugly Betty. Her first recurring role on the small screen was as Harmony on Weeds. In 2010, she appeared as Tammy in the film The Runaways, as well as played Annabelle Campos on FlashForward.
Her next role was as Missy Kallenback in 2012's The Amazing Spider-Man. From 2011 to 2013, she became known for her role as Lindsay Santino on the USA Network series Necessary Roughness. She went on to have performances in the films Kristin's Christmas Past, 1000 to 1: The Cory Weissman Story, Anesthesia, Southbound, Punk's Dead, and Slash, Hard Sell. In 2014, she appeared as Gloria in 4 episodes of Awkward. She next starred as Amanda Brotzman on the BBC America series Dirk Gently's Holistic Detective Agency. She currently plays recurring character Mimi Waxberg on the ABC sitcom The Real O'Neals.
The 25-year-old actress stays in shape by eating healthy meals, at least she does most of the time. However, the young star also admits that she usually eats out since she's not really into cooking. Ideally, though, she enjoys delicious foods while staying healthy. Her food choices? She revealed:
"Breakfast: Scrambled eggs with ketchup, sourdough toast, and coffee really milked and sugared up. Lunch: My mama's homemade vegetable soup, another coffee (shhh), and some fruit. Dinner: Penne pasta with chicken, vegetables, marinara, and parmesan. Snacks: Anything with peanut butter and an Insomnia cookie." When asked what foods can be found in her fridge, she answered: "Leftovers are always in my fridge. I go out to eat a lot since my cooking skills = microwaving. My pantry is stocked with a lot of uneaten protein bars and a plethora of crackers." Nonetheless, she enjoys a great smoothie consisting of kale, banana, and strawberry.