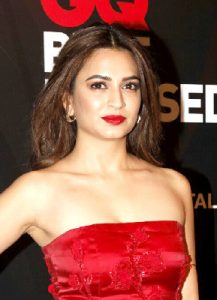 Indian actress Kriti Kharbanda started her professional acting career in the late 2000s. She debuted in the Telugu film Boni. Shortly after, she had her first role in the Kannada cinema with the movie Chiru. In the next few years, she got acting roles in the Telugu films Ala Modalaindi, Teen Maar, and Mr. Nookayya. This was followed by performances in the Kannada films Prem Adda and Galaate, and then again in the Telugu movies Ongole Githa and Om 3D.
The actress became further known for her works in the Kannada feature films, including Googly and Super Ranga. For her role in the latter, she received a Filmfare Award nomination for Best Actress – Kannada. In 2015, she starred in the Telugu movie Bruce Lee – The Fighter, which gained her a Filmfare Award nomination for Best Supporting Actress -Telugu. The following year, she made her Bollywood debut with the Hindi film Raaz: Reboot.
She also ventured into Tamil cinema with a role in the movie Bruce Lee. In 2017, she had performances in the Hindi films Guest iin London and Shaadi Mein Zaroor Aana. More recently, she starred in the Bollywood features Veerey Ki Wedding, Yamla Pagla Deewana: Phir Se, and Housefull 4, garnering her wider recognition.
In an interview, Kriti Kharbanda shared how she stays in shape. Apart from living an active lifestyle, she also maintains a healthy figure through proper nutrition. Nonetheless, she doesn't follow a strict diet. "I just make sure that I eat enough to keep me happy. I think that's super important. Sometimes, when we go on a diet, we forget that the mind needs to be happy too," said the actress. "I avoid carbs as much as possible and avoid eating oily stuff. I don't mind ghee and butter though," she added.
The actress has also confessed to trying crash diets. "Crash diets are not the best way. Your body is accustomed to a certain lifestyle. It is absolutely wrong to put your body through something that is so alien to it," shared the actress. "I have also tried the ketogenic diet. It worked really well for me. I saw some great results in three months. But I realised that I was stressing my body out."