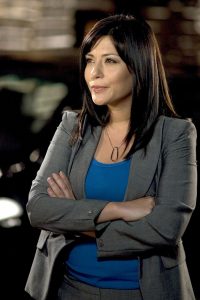 Actress Marisol Nichols had her career beginnings in the mid-1990s. She made her film debut in Vegas Vacation. This was followed by roles in the movies Scream 2, Friends 'Til the End, Can't Hardly Wait, and Jane Austen's Mafia, among others. During this period, she also started her career on the small screen. She initially made one-episode roles in such shows as Beverly Hills, 90210, ER, and Cybill, among others. Her first starring role on television came in the 2000s. This was as Victoria Santiago in the Showtime series Resurrection Blvd.
She next had a recurring role as Elisa in Cold Case and starred as Detective Karen Bettancourt in the short-lived show Blind Justice. She also starred as Sonya Quintano in the series In Justice. Further success came after getting the role of Nadia Yassir in the Fox series 24. She later starred in the short-lived shows The Gates and GCB. From 2015 to 2017, she appeared as The Desert Wolf in Teen Wolf. Since 2017, she plays Hermione Lodge in Riverdale.
Aside from her workout routine, the actress maintains her health by eating clean. While she admits that a clean diet is crucial, she also doesn't like depriving herself of food. "Diet is always so important but I don't like limiting myself either," she said. For one, she always starts her day with a nutritious breakfast.
She shared: "Years ago, I used to skip breakfast altogether, wrongly thinking that if I didn't eat it, I might lose weight or something." She continued: "I learned later that breakfast kick-starts your metabolism for the day. Now my favorite breakfast is low-fat Fage yogurt. I mix the plain flavor with cinnamon and Stevia." She also loves her food having flavor. "I like flavor–I could never stick to any diet that was steamed vegetables and low-fat chicken breast. Instead, I can have that same meal, except with garlic, onion, lemon pepper, and shallots–tons of spices to make it taste good," she revealed.