Early Life and Breakthrough on Saturday Night Live
Kristen Carroll Wiig was born on August 22, 1973 in Canandaigua, New York to artist Laurie and John J. Wiig. At the age of three, she relocated to Lancaster, Pennsylvania with her family. There, she attended Nitrauer Elementary School. She then moved to Rochester, New York, where she attended and graduated from Brighton High School.
She went on to study art at the University of Arizona. She later developed an interest in acting when she took an acting class in college as a course requirement. Her teacher also suggested she continue to act. She then dropped out of school and moved to Los Angeles, where she joined the improvisational and sketch comedy troupe The Groundlings.
Wiig's early work has mostly been in comedy like performing at the Empty Stage Comedy Theatre and with The Groundlings. In 2003, she made her first television appearance in the reality television spoof The Joe Schmo Show. The following year, she landed guest spots in such TV shows as I'm with Her and The Drew Carey Show.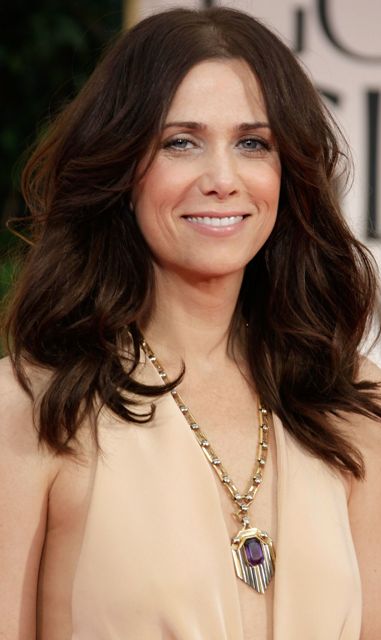 On November 12, 2005, she debuted in the live sketch comedy show Saturday Night Live and became a full member of the repertory cast at the beginning of Season 32 in 2006, surviving the show's budget cut. She stayed in the show until 2014 where she achieved widespread recognition. For her work in SNL, she was nominated for a Primetime Emmy Award for Outstanding Supporting Actress in a Comedy Series consecutively from 2009 to 2012.
Her other works on television include guest spots in such TV shows as 30 Rock, Flight of the Conchords, Bored to Death, Portlandia, Arrested Development and Drunk History. She also lent her voice for guest roles in a series of animates programs like Ugly Americans, The Cleveland Show, The Looney Tunes Show, The Simpsons and SpongeBob SquarePants. In 2014, she starred as Cynthia Morehouse in the miniseries The Spoils of Babylon.
Wiig also achieved fame for her work on the big screen, beginning with her film debut in the 2006 movie Unaccompanied Minors. The following year, she starred as the passive-aggressive assistant Jill in Judd Apatow's comedy film Knocked Up, alongside Katherine Heigl, Seth Rogen, Paul Rudd and Leslie Mann. The movie was a major box office hit, with worldwide earnings of $219,076,518.
During the next few years, she appeared in such motion pictures as Meet Bill (2007), The Brothers Solomon (2007), Walk Hard: The Dewey Cox Story (2007), Semi-Pro (2008), Forgetting Sarah Marshall (2008), Pretty Bird (2008) and Ghost Town (2008). In 2009, she appeared as Maggie Mayhem in Drew Barrymore's directorial debut Whip It!.
She then provided her voice for the role of Pudgy Beaver Mom in the 2009 animated movie Ice Age: Dawn of the Dinosaurs, for the part of Ruffnut in 2010's How to Train Your Dragon and for the part of Miss Hattie in Despicable Me, also released in 2010. She has also appeared in other movies like Date Night, MacGruber, All Good Things, all released in 2010.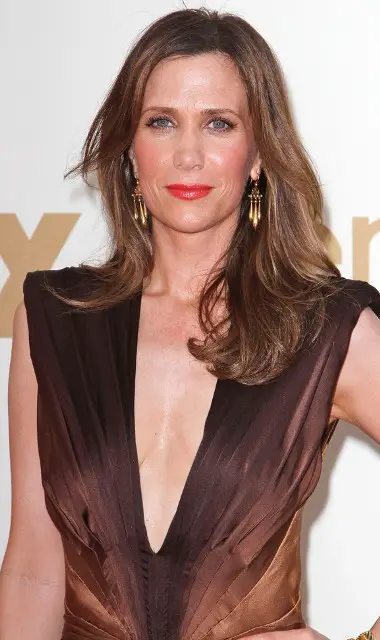 Subsequent Films and Plastic Surgery
In 2011, she co-wrote and starred in Bridesmaids. She plays the lead role of Annie, who, after being asked to serve as maid honor for her best friend, suffers a series of misfortunes. Bridesmaids was both commercially and critically successful.
It has a worldwide earnings of $288,383,523 on a $32.5 million budget. The film received nominations, including an Academy Award for Best Writing (Original Screenplay) and a BAFTA Award for Best Original Screenplay for Wiig and Annie Mumolo.
The movie was also nominated for a Golden Globe for Best Picture. Aside from her writing, Wiig was also commended for her performance, earning a Golden Globe nomination for Best Actress. She also garnered Best Female Performance and Best Comedic Performance nominations at the MTV Movie Awards.
She has since starred in other films such as Friends with Kids (2011), Revenge for Jolly! (2012), Girl Most Likely (2013), The Secret Life of Walter Mitty (2013) and Anchorman 2: The Legend Continues (2013).
Wiig may have fulfilled significant accomplishments as an actress and a writer but she still is no exception to plastic surgery rumors. According to some reports, the Bridesmaids actress had a rhinoplasty before. Observers are also convinced that there was a reshaping procedure involved, giving her nose a new look.
The website Shine first reported the actress' seemingly enhanced appearance along with two other celebrities. According to Shine editor, Wiig's once-wide nose now appears to be thinner and the bridge was heightened to lose its wideness. Despite the numerous claims, the Oscar-nominated actress/writer has yet to respond on the issue.