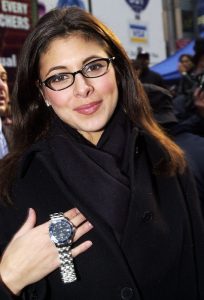 Hollywood star Jamie-Lynn Sigler had her career beginnings on TV. This was as Meadow Soprano on the HBO series The Sopranos. Critically acclaimed, the show aired from 1999 to 2007 where she enjoyed much stardom. While on the show, she had performances in the films Campfire Stories, Love Wrecked, and Dark Ride, among others. In 2004, she portrayed the titular character in the TV movie Call Me: The Rise and Fall of Heidi Fleiss.
She next guest-starred as Ro in 2 episodes of Will & Grace. Following The Sopranos conclusion, she starred in the miniseries The Gathering. She next guest-starred in How I Met Your Mother. She then starred as herself in HBO's Entourage. In 2009, she played recurring character Natalie in Ugly Betty.
In the 2010s, she first had one-episode roles in Drop Dead Diva and Last Man Standing. After this, she starred as Emily in the NBC sitcom Guys with Kids. At the same time, she had roles in the movies Divorce Invitation, I Do, and Jewtopia. She later starred in the TV film The Christmas Note. Her latest works on TV include guest roles in CSI: Cyber, Baby Daddy, and Magnum P.I.
The 38-year-old actress did not always eat healthily. But it all changed for her when she became a mom. Wanting to teach her to go for the nutritious ones, she became a healthy eater herself. "I would drink a lot of soda and eat sugary things," said the actress. "Vegetables and fruits were never things I reached for."
Not anymore. Sigler told People in an interview how her son would look at her plate to see what she was eating, prompting her to start making changes. Now, her diet plan is primarily vegetables and fruits, lean meat, and healthy fats from fish. To consume more fruits and veggies daily, she makes homemade shakes with her son, too.