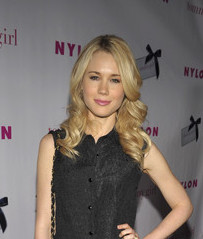 Kristen Hager's performing career has been going since the mid-2000s. During her early years, she starred in the TV series Beach Girls. A limited series, it aired on Fox in 2005. She next appeared as Kylie in several episodes of Runaway. In 2007, she began her film career with performances in I'm Not There and Aliens vs. Predator: Requiem.
She next starred in the movies Wanted, You Might as Well Live, and played the lead in the Canadian film Leslie, My Name Is Evil. She also starred as Adele Emond in the TV series Wild Roses. She went on to star in the miniseries Valemont and the television movie Sorority Wars. During this period, Hager starred in the feature films A Little Bit Zombie, The Right Kind of Wrong, The Barber and Life.
Her breakthrough role was as Nora Sergeant in the television series Being Human. She played the said character from 2011 to 2014. Afterward, she guest-starred in The Expanse and Gotham, as well as portrayed Joan Kennedy in the miniseries The Kennedys: After Camelot. Hager starred as Mae Barber in the thriller program Condor. Back in the movies, her most recent works were in Clara and Blood and Money.
Apart from her diet plan, Kristen Hager takes care of her body by engaging in a lot of physical activities. For starters, she works out whenever she can. Speaking of her workout routine, she combines cardio, light weights, and yoga. She's also tried Pilates.
She likes to run, swim, and dance, covering her cardio activities. She enjoys some light weights to challenge herself sometimes. As for yoga, she enjoys doing exercises that can be highly beneficial to her mental health. To add, the actress also spends her free time outdoors, which she considers is another form of workout.