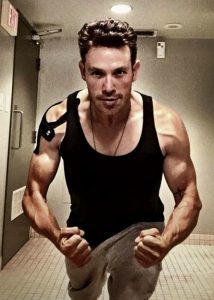 Hollywood actor Kevin Alejandro debuted in the 2002 film Purgatory Flats. He next appeared in the film Graduation Night. On TV, he first had guest appearances in Crossing Jordan, Las Vegas, and Charmed. His first starring role on the small screen was as Dominic Hughes in the soap opera The Young and the Restless. He next appeared as Dominic Hughes in 24 and went on to have one-episode roles in Medium, Alias, JAG, CSI: New York, Without a Trace, and CSI: Miami. He next starred in the TV movie Faceless, as well as starred as Benito "Benny" Velasquez in the short-lived series Sleeper Cell. His next acting gig was the recurring role of Santos in Ugly Betty.
Subsequently, he joined the main casts of the short-lived shows Drive as Winston Salazar and Shark as Danny Reyes. In 2008, he played Esai Alvarez in 2 episodes of Sons of Anarchy. He also had a recurring part as Rudolpho Mason in Weeds. From 2009-2011, he starred as Nate Moretta in Southland. Following this, he played Jesus Velasquez in True Blood and Sebastian Blood / Brother Blood in Arrow. He played Sheriff Tommy Solano in the show The Returned and Officer Dan Pruitt in Grey's Anatomy. As of 2016, he stars as Detective Daniel Espinoza in Lucifer. He's also had performances in the films Wake, Crossing Over, Red State, Cassadaga, and Medeas.
The actor bulked up recently, right after the first season of Lucifer. "It was during the hiatus before the second season, I was going like six days a week with high-intensity training, and then mixing it up with heavy weightlifting," said the actor in an interview with Men's Journal. Why the transformation? Simple. He wanted to know if he could. And that he did. According to the actor, his workout routine consisted of high-intensity interval workouts and superset-dominated lifting and with limited breaks. In order to maintain this, he continues his vigorous workout regimen up to present, training for up to 60-90 minutes, five days a week.