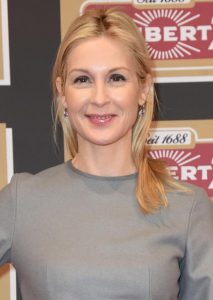 Hollywood star Kelly Rutherford had her career beginnings in the 1980s. During her early years as an actress, she had appearances on the soap operas Loving and Generations. Meanwhile, her first film role was in Shakedown. Her first starring role on television was as Judy Owen on Homefront, which she played from 1992-1993. She played Dixie Cousins afterward on the TV show The Adventures of Brisco County, Jr. This was followed by starring roles on the short-lived shows The Great Defender and Kindred: The Embraced.
From 1996-1999, she gained mainstream recognition for her role as Megan Lewis Mancini on Melrose Place, joining the main cast from seasons 5-7. In 2000, she starred as Christine Hamilton in the movie Scream 3. She next played Deputy Mayor Melinda Lockhart on the CBS series The District. After starring on the short-lived programs Threat Matrix and E-Ring, she became widely known for her role as Lily van der Woodsen on Gossip Girl, playing the part from 2007-2012. After Gossip Girl ended, she had recurring roles on Being Mary Jane and Reckless. She recently played Melissa Daniels in three episodes of Dynasty.
The 50-year-old actress stays in shape by living a healthy lifestyle. For one, she sticks to a clean diet plan. Her beauty regimen is mostly about consuming healthy foods rather than using cosmetic products. "A lot of it has to do with eating healthy. I've noticed over the years – that has helped a lot, whether it's juices or eating all organic at home," the actress said.
Talking about her health passion in another interview, she said: "Awareness. Eating organic, using nontoxic products, being aware of the power of our thoughts, putting our energy into building the new, creating from now, and focusing on what we want and love in our life." She said she starts her day with a cappuccino and boosts her energy through healthy snacks such as "apples, avocados, and bananas".