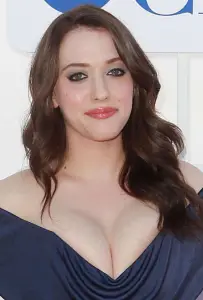 American actress Kat Dennings began her acting career during her teens, beginning with an appearance on the TV series Sex and the City. After that, she was chosen for a main role in the short-lived show Raising Dad, which only aired for one season. A couple of years later, she began her movie career with her debut in Raise Your Voice released in 2004 with her first notable role in Big Momma's House 2 and The House Bunny, though her first lead role was in Nick and Norah's Infinite Playlist released in 2008. She continued her career with more roles on the big screen and a recurring character in ER. Her career took an interesting turn in the beginning of the 2010s with a supporting role in Thor (2011) and a starring role in the sitcom 2 Broke Girls, which exposed her to further audiences all over the world. She still plays the character up to present. She also reprised her role in Thor in the 2013 sequel The Dark World.
The curvaceous actress is doing well as a comedic actress, which also suits her effectively. Standing at 5'3 ½, her voluptuous body is surely further highlighted. Though she's not very skinny, Kat is proud and confident of her body. Also, Kat is someone who takes care of her body by avoiding unhealthy habits. For one, she doesn't drink and smoke and even said outright that she doesn't want to be around people that do. She strongly believes that these are highly dangerous habits she wants nothing to do with.
However, Kat recently discovered the pleasures of drinking wine when she traveled to Europe. So, she drinks wine now accompanied by good food, but still she doesn't drink other kinds of alcohol and vows to never get drunk. When it comes to her diet, Kat simply practices portion control and makes sure she eats a balanced diet, mostly proteins, complex carbs and fruits and veggies. For fans of 2 Broke Girls, you'd be delighted to know that the actress is fond of cupcakes in real life.