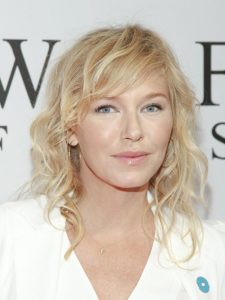 It was in 2005 that actress Kelli Giddish began her Hollywood career. She debuted in the film Witches of the Caribbean. That same year, she also had her first television role, starring as Diana "Di" Henry on the soap opera All My Children. At the same time, she starred as Courtney on the web series The Burg. She went on to have one-episode roles in Law & Order: Criminal Intent, Damages, Law & Order: Special Victims Unit, Without a Trace, and Life on Mars. She also appeared in the 2008 films Death in Love and The Understudy.
She gained wider recognition in the 2010s. During this period, she starred as Dr. Kate McGinn on Past Life and Annie Frost on Chase, both short-lived shows. She also played Sophia Russo in 4 episodes of The Good Wife. She got her breakthrough in 2011 — as Det. Amanda Rollins on the long-running series Law & Order: Special Victims Unit. She has reprised her role on Chicago Fire and Chicago P.D. Her latest movie role was in 2012's Breathless.
Apart from her exercise routine, the actress stays strong and healthy through proper nutrition. She doesn't believe in diets though. For her, getting fit is all about eating right. That's why she has since cut down on sugar. She limits her carb intake by eating in moderation. Instead, she eats whole, clean foods every day. She gets her protein from lean meat while she eats plenty of fruits and veggies for their fiber and a whole lot more nutrients.
Usually, she starts her morning with an omelet and black coffee. She has some fruits afterward to keep herself full until lunch. Then she has fish or chicken and pasta or rice with a vegetable salad for lunch and dinner. If not busy, the actress prefers to make her own meals. She chooses her own ingredients to make sure they're fresh and healthy.