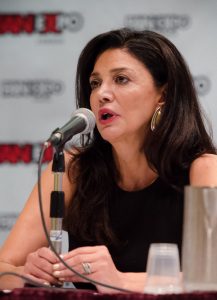 International actress Shohreh Aghdashloo had her career beginnings in the 1970s. Before she ventured into international work, she started acting on Iranian screen. She later relocated to England in the late 1970s. In the 2000s, her work in the movie House of Sand and Fog got her acclaim. This also got her an Oscar nomination. She went on to star in the Hollywood films The Exorcism of Emily Rose, American Dreamz, and The Lake House. She next played Dr. Kavita Rao in the superhero movie X-Men: The Last Stand. Afterwards, she played Elizabeth in The Nativity Story. In the 2010s, she starred in the movies The Odd Life of Timothy Green, Rosewater, Star Trek Beyond, and The Promise. She also plays the role of Chrisjen Avasarala on the TV series Expanse.
The 65-year-old actress takes care of herself by eating healthy. Surprisingly though, she lets her sweet tooth gets the best of her in the morning as she prefers "coffee and doughnuts" for breakfast. When it comes to beauty, she believes it comes down from being happy. She said she also doesn't believe in dieting. She stated: "I don't believe in dieting unless someone really needs to go on a diet for medical reasons or to regulate their eating habits. Of course, working out helps a lot, too. I love swimming and walking."
When asked what her ideal food day, she said it would be orange juice, coffee, brown toast and cream cheese for breakfast. For lunch, she wants to have some brown rice, pan-seared wild mushrooms, and giant shrimps. And for dinner, she loves to have kale salad, sliced chicken breast, and a glass of wine. As mentioned earlier, the actress doesn't believe in dieting. She just stays slim and healthy by focusing on healthy foods. She usually avoids consuming refined carbs and sugar, though she sometimes indulges in her cravings.