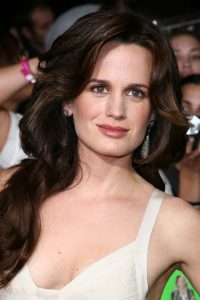 Hollywood star Elizabeth Reaser got her beginnings in the late 1990s. She debuted on the show Sports Theater with Shaquille O'Neal. In the early 2000s, she mostly had guest appearances on The Sopranos, Law & Order: Criminal Intent, Hack, and The Jury. She then starred as Alice Alden on the short-lived series Saved. After this, she joined the cast of Grey's Anatomy as recurring character Ava / Rebecca Pope. In the movies, she had roles in Emmett's Mark, Mind the Gap, Stay, Sweet Land, The Family Stone, Puccini for Beginners, and Purple Violets. She then gained wider recognition for her role as Esme Cullen in 2008's Twilight.
She reprised the role in The Twilight Saga: New Moon, The Twilight Saga: Eclipse, The Twilight Saga: Breaking Dawn – Part 1, and The Twilight Saga: Breaking Dawn – Part 2. In the 2010s, she starred in the movies The Art of Getting By, Young Adult, Liberal Arts, and Hello, My Name Is Doris. Her latest movie role is 2016's Ouija: Origin of Evil. On television, she also became known for her recurring role as Tammy Linnata on The Good Wife and for starring in the miniseries Bonnie and Clyde: Dead and Alive. She later played Laurie Perkins on True Detective and Ellie Fitzgerald on the miniseries Manhunt: Unabomber.
The actress is already in her 40s but she's able to maintain her slender figure thanks to her clean lifestyle. She mostly sticks to a clean diet, avoiding anything processed. She loves eating organic foods because it helps her feel great on the inside and out. Eating clean foods also helps her improve her energy levels, which she crucially needs as an actress. Her diet mainly consists of lean proteins, fiber-rich foods such as fruits and veggies, and whole grains. She also loves green smoothies for snacks as this helps her feel full, which then allows her to have her meals in moderation.