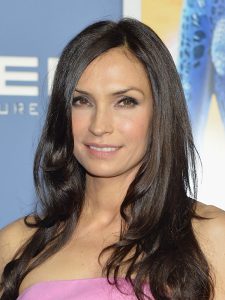 Hollywood actress Famke Janssen had her beginnings in the early '90s with her debut in the film Fathers & Sons. Her first notable role was as Xenia Onatopp in the James Bond film GoldenEye in 1995. She went on to star in the movies Lord of Illusions, Dead Girl, Deep Rising, Rounders, and Celebrity. In the 2000s, she gained recognition for her role as Jean Grey in the X-Men films. She also played recurring role Ava Moore in Nip/Tuck.
Other films during this period were I Spy, Hide and Seek, Don't Say a Word, and The Treatment. She also became known for playing Lenore "Lenny" Mills in the Taken film trilogy. In the 2010s, she starred in Hansel and Gretel: Witch Hunters, Jack of the Red Hearts, The Show, and Once Upon a Time in Venice. She also reprised her role as Jean Grey in The Wolverine. This year, she starred in the movie Status Update. On television, she played Olivia Godfrey in Hemlock Grove, Eve Rothlow in How to Get Away with Murder, and Susan Hargrave in The Blacklist: Redemption.
At 53, the actress sure looks fit, youthful, and healthy. She's able to maintain her radiant appearance by living a healthy lifestyle. For one, she follows a clean diet plan. She basically avoids gluten because of her gluten intolerance. "I, unfortunately, am gluten intolerant, so I avoid gluten, but other than that I eat what I like, which is mostly healthy foods, luckily," she said.
She also practices beauty inside and out by drinking lots of water and eating organic foods. In an interview, she got candid about her typical diet plan. She said: "For breakfast, I'd start with boiled eggs, fresh organic berries, and two macchiatos. For lunch, I'd eat vegetable pureed soup, vegetarian chili, and arugula with mixed fruit and pumpkin seeds. I'd have green tea with 100% dark chocolate and macadamia nuts as a snack. Dinner would be wild salmon, sweet potatoes and arugula with mixed fruit and olive oil. And for dessert: more dark chocolate."