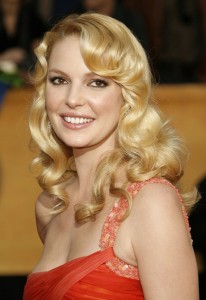 American celebrity Katherine Heigl started her acting career early, getting her initial acting gigs as she was just entering her adolescence. During this time, she appeared in a number of films, including in the action movie Under Siege 2: Dark Territory (1995). It was in television, however, that she first became recognized as an actress, most specifically in Roswell. After the show, she was mostly seen in television films and a couple of feature films as well. In 2005, she achieved widespread fame after becoming part of the main cast of Grey's Anatomy. This led her to secure lead roles in mostly romantic comedies which went on to become box office hits, including Knocked Up, 27 Dresses, and The Ugly Truth. Her most recent films are Jackie & Ryan, Home Sweet Hell, and Jenny's Wedding.
The 37-year-old actress has had a prolific career in Hollywood since she was a teenager. For this, most audiences are highly familiar of her. Standing at 5'8 1/2, Katherine has also a long stature and with her curvaceous body, she sure is a sight for sore eyes. Being a big star, Katherine follows a certain diet plan to maintain her fabulous figure. Usually, the calorie intake she allows herself to consume is between 1700 to 2000 calories daily. She begins her day with a glass of water early in the morning and eats toast with baked eggs and drinks a glass of milk for breakfast.
For lunch, she has either lean meat or fish partnered with a bowl of salad for a balanced meal. She also takes snacks but avoids munching on junk or processed foods. Instead, she eats nuts and protein shakes to keep her feeling full and reinvigorated throughout the day. She's also fond of drinking berry shakes and stays away from partying and consuming alcohol since it increases toxin levels in the blood.