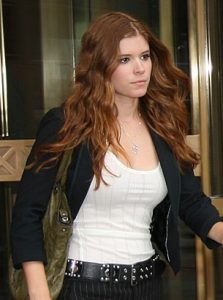 American actress Kate Mara started her Hollywood career in the late 1990s. Her career became more prolific in the mid 2000s. During this period, she starred in the straight-to-video Urban Legends: Bloody Mary and had a notable role in Brokeback Mountain. Additionally, she had recurring roles on the TV shows Everwood, Nip/Tuck, Jack & Bobby, and 24. She also appeared in the movies We Are Marshall and Shooter. Her roles got more mainstream and significant in the 2010s. She starred on the acclaimed American Horror Story: Murder House and played Zoe Barnes on House of Cards. Aside from her notable characters on the small screen, she also starred in the big-budget films Fantastic Four and The Martian.
Film and television star Kate Mara not only eats clean and nutritious foods to maintain her svelte figure and lean body, she also works out to ensure she stays toned and fit. For her role in Fantastic Four, she knew she had to work harder to handle her action-oriented scenes. But basically she's already one of those who love to exercise. She wouldn't feel good and complete if she knew she had missed her workout routine. Luckily for her, her physical sessions aren't chores to her, but something she does for fun while getting fit at the same time.
In an interview with E!, she dished about how she loves working out and how she'd go nuts if she didn't. For one, she's into Bar Method workouts especially when she's in Los Angeles at her home. When she's on location shooting, she prefers running as this is the most convenient exercise she could do. Also when she's at home, she adds to her list of cardio when she walks her dog, which is something she does as part of her normal routine, but is actually very good for her blood circulation and her health in general.