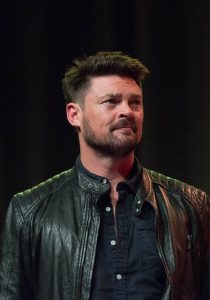 New Zealand actor Karl Urban had his career beginnings in the early 1990s. He debuted in the New Zealand series Shark in the Park. He later became known for his role as Jamie Forrest in Shortland Street, a long-running soap opera in New Zealand. Urban then guest-starred in the American show Hercules: The Legendary Journeys. He next portrayed Julius Caesar in 8 episodes of Xena: Warrior Princess. This marked his first notable role on US television.
In the 2000s, he became more focused on his acting career. He appeared in the feature film Ghost Ship before landing the part of Éomer in The Lord of the Rings: The Two Towers. He reprised his role in the sequel The Lord of the Rings: The Return of the King. After this, Urban had starring performances in the films The Chronicles of Riddick and Doom, as well as played a supporting role in The Bourne Supremacy.
In 2009, he played Leonard McCoy in Star Trek. In the 2010s, he reprised his role as Leonard in the sequels Star Trek Into Darkness and Star Trek Beyond. Also, the actor starred in the movies Black Water Transit, And Soon the Darkness, Red, Priest, and The Loft. In 2017, he played Skurge in Thor: Ragnarok. His most recent film performances were in Acts of Vengeance, Hangman, and Bent. On TV, he starred as John Kennex in the short-lived series Almost Human. He currently stars as Billy Butcher in the Amazon series The Boys.
The actor works out on a regular basis but for his role in Thor: Ragnarok, he upped his training to prepare his body. "There's a bit of a few hours at the gym lifting heavy things," he said about his physical preparation. As part of his normal workout routine, the actor runs, swims, plays sports, and does weights. Everything he does physically has been great in terms of maintaining his form.