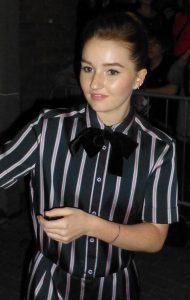 Hollywood star Kaitlyn Dever first got the role of Gwen Thompson in the 2009 film An American Girl: Chrissa Stands Strong. That same year, she appeared in an episode of Make It or Break It and Modern Family. She next made guest roles in Private Practice and Party Down, as well as appeared in the feature films Bad Teacher and J. Edgar.
In 2011, she had a role in the made-for-television movie Cinema Verite. She also guest-starred in The Mentalist. Dever became known for her role as Loretta McCready in the FX series Justified, which she played recurrently between 2011 and 2015. During this period, the actress also landed roles in several feature films. This includes The Spectacular Now, Short Term 12, Laggies, and Men, Women & Children.
Dever also gained wider recognition after getting the part of Eve Baxter in the Fox sitcom Last Man Standing, which she has been playing since 2011. From 2017 to 2019, the actress has had several performances on the big screen. These are in the films All Summers End, We Don't Belong Here, Detroit, Outside In, The Front Runner, Beautiful Boy, Them That Follow, and Booksmart. She also recently starred as Marie Adler in the Netflix miniseries Unbelievable.
The young actress doesn't follow any specific diets but she tries to be healthy in her food choices. While she's still at the age where she craves for a lot, even processed meals, the Kaitlyn Dever diet plan involves her making efforts to practice moderation. She's also health-conscious so most of the time she only has fish or chicken with salad. She always incorporates vegetables into her meals and eats fruits for snacks instead of junk foods. But, being a foodie, she doesn't deprive herself of anything. She allows herself to eat pizza, fries, ice cream, and the likes. She just doesn't binge on them.