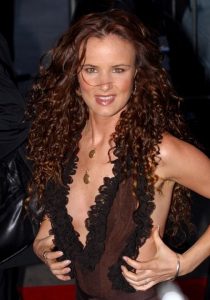 It was in 1987 that actress Juliette Lewis started her Hollywood career. Her first starring role was as Kate Farrell in the sitcom I Married Dora. For her role, she received a Young Artist nomination. Later, she had roles in the films National Lampoon's Christmas Vacation, Meet the Hollowheads, and The Runnin' Kind. In 1991, she came to wider prominence for her role as Danielle Bowden in Martin Scorsese's Cape Fear. For her performance, she received an Academy Award nomination for Best Supporting Actress.
Subsequently, she starred in the movies Husbands and Wives, That Night, and Kalifornia. She then starred alongside Johnny Depp and Leonardo DiCaprio in 1993's What's Eating Gilbert Grape. The following year, she portrayed Mallory Knox in Oliver Stone's Natural Born Killers. Her next starring roles were in the films The Basketball Diaries, The Evening Star, From Dusk till Dawn, and The Other Sister. In the 2000s, she received praise for her performances in the TV movies My Louisiana Sky and Hysterical Blindness, the latter of which earned her a Primetime Emmy nomination.
During this period, she also starred in the films Enough, Cold Creek Manor, Renegade, Starsky & Hutch, Aurora Borealis, and Catch and Release. The 2010s later saw her became more active on TV. She starred as Tamara Inez "Tammy" Hemphill in the TV drama The Firm. Lewis next played Detective Andrea Cornell in Secrets and Lies. Back on the big screen, her latest films roles were in August: Osage County, Jem and the Holograms, Nerve, and Back Roads.
At age 46, the actress-singer still stays fit thanks to her healthy lifestyle. She doesn't follow any complicated workout routine though. Everything she does for her body is just the basics. "For fitness, walks in nature are great, and vigorous exercise like my beloved Barry's Bootcamp classes. I always feel so invigorated and strong after a class and the trainers are really motivating!" said Lewis.