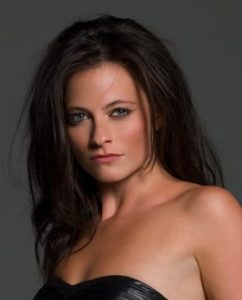 English celebrity Lara Pulver had her career beginnings in the late 2000s. Her first role was as Isabella in the BBC One series Robin Hood. After this, she starred in the made-for-TV film The Special Relationship, as well as made her big-screen debut in the movie Legacy (2010). That same year, she played Claudine Crane in 5 episodes of the fantasy-horror series True Blood.
Later, she starred as Erin Watts in the British programme Spooks. Around this period, she had a role in the film Language of a Broken Heart. Pulver then became known for her portrayal of Irene Adler in Sherlock, which she played in 2012 and 2014. She then landed the starring role of Clarice Orsini in Da Vinci's Demons, which she starred in between 2013 and 2015. She simultaneously starred as Victoria in Skins: Fire and Ann O'Neill in Fleming: The Man Who Would Be Bond.
After Da Vinci's Demons, she reprised her role as Erin Watts in the feature film Spooks: The Greater Good. She also had a cameo role in the Hollywood film Edge of Tomorrow. She next had performances in the films A Patch of Fog and Underworld: Blood Wars. Pulver went on to play Charlotte Bishop in the ABC series Quantico. Her most recent roles on the small screen were in Philip K. Dick's Electric Dreams and The City and the City.
Apart from healthy eating, Lara Pulver maintains a healthy figure by being active in her lifestyle. Her work alone often requires her to work out and improve her body for certain roles, like in Sherlock and Da Vinci's Demons. "We've all been given personal trainers, which was terrifying, but I feel like I'm getting toward my optimum fitness level," said the actress in an interview. As for her normal workout routine, she likes to run and do more outdoor activities.