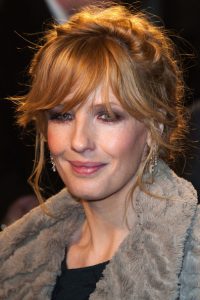 Actress Kelly Reilly started her professional acting career in 1995. She first appeared in the British TV movie Prime Suspect: Inner Circles. She later made one-episode roles in Bramwell, Sharman, and Pie in the Sky. She also had a role in another TV film called Poldark. She went on to play Nancy Miller in 3 episodes of The History of Tom Jones, a Foundling. In 1999, she appeared in 5 episodes of the show Wonderful You. The 2000s then marked the start of her film career. Her first role was in the 2000 film Maybe Baby.
She next had roles in the movies Last Orders, Pot Luck, Dead Bodies, and Libertine. She went on to appear in the movie Russian Dolls, as well as portrayed Caroline Bingley in 2005's Pride & Prejudice. Subsequently, she starred in the movies Mrs Henderson Presents, Puffball, Eden Lake, and Me and Orson Welles. Later in 2009, she portrayed Mary Morstan in the movie Sherlock Holmes.
In the 2010s, she became further known for her role as DC / DI Anna Travis in the British crime drama series Above Suspicion. She also reprised her role as Mary in Sherlock Holmes: A Game of Shadows. More recently, she ventured into Hollywood with starring roles as Dr. Catherine Black in the ABC series Black Box. After this, she played Jordan Semyon in HBO's True Detective. As of 2018, she stars as the female lead Beth Dutton in the drama Yellowstone.
The English actress has made it a habit to wake up early in the morning, even when she's not busy. This also gives her plenty of time to prepare a healthy breakfast. "I make a coffee and whizz up some fruit juice (I'm a big juicer and make large batches to keep in the fridge)," said Reilly.
Sometimes, she would also add turmeric and ginger into her juice to improve her immune system. For lunch, she usually has a huge bowl of salad. She has a vegetable garden so she's really big on salads. For dinner, she likes to have roast chicken with veggies and squash roasted with salt and pepper.