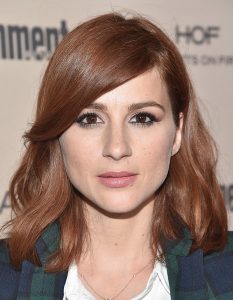 American actress Aya Cash only started her career in the mid 2000s. Her first acting gigs were on Law & Order and Law & Order: Criminal Intent. The rest of the 2000s saw her appearing as a guest role on other shows like Brotherhood and Mercy. In the 2010s, she had appeared in the films The Oranges and Begin Again. She also appeared as Janet on The Wolf of Wall Street. Back on TV, her first regular role was on Traffic Light. She then had recurring roles on The Newsroom and We Are Men. She came to prominence recently upon playing the lead on the comedy series You're the Worst.
The 34-year-old actress recently found her breakthrough on television. Thanks to the show You're the Worst, she made herself more recognizable among TV audiences around the world. Aside from her talent in acting and comedic wit, Aya is also remarkable for her beauty and slender figure. This is because the actress takes care of herself through healthy eating. Being in her 30s, she knows that her metabolism goes slower. Thus, she needs to be more careful of her eating habits.
The actress stays healthy by keeping it light. She consumes healthy food regularly. She follows her meals regularly, too. She just makes sure that she eats in moderation. In a tweet, the actress shared her diet tips: "Green smoothie in the morning. Light lunch. Then eat salami and blue cheese until 2 am." For lunch, she prefers lean protein. So, she either has chicken or fish. She also opts a light meal in the evening. She goes for some sushi or a good bowl of pasta. She also makes sure she always has veggies and fruits incorporated into her meals. For snacks, she prefers something healthy as well. She typically has nuts, fruits and yogurt.