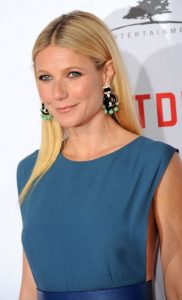 Hollywood star Gwyneth Paltrow started her career in the early 1990s. During her initial years she had appeared in the movies Shout, Hook, and many others. Her first significant role was in David Fincher's movie Seven. She next portrayed the titular character in the period drama Emma. Her performance in Shakespeare in Love earned her her first Oscar Award for Best Actress. In the 2000s, she starred in several films. This includes The Royal Tenenbaums, Shallow Hal, and Sylvia. She went on to star as Virginia "Pepper" Potts in the film Iron Man and its sequels Iron Man 2 and Iron Man 3. Her most recent role on the big screen was in 2015's Mortdecai. She has also appeared on the small screen, playing Holly Holliday on Glee.
The 45-year-old actress and mother of two surely has her own ways of practicing a healthy lifestyle, which seem to be very efficient since Gwyneth still enjoys a slender and toned figure. Her youthful charm could mistake her for someone younger than her actual age. Aside from a very healthy and clean diet, the actress also makes sure she works out regularly. In fact, she says exercising is a normal part of her daily life. Though in an interview she became more candid as to her workout habits.
She said: "I like feeling good, and I know I feel my best when I exercise. But it depends on the day — I definitely don't always feel like doing it." She added: "I've made it a habit, just like brushing your teeth. That's how you have to look at it. I've been a Tracy Anderson fanatic for over a decade, I'm an investor in her company, so yeah, I go every morning. I drop the kids at school, work out, go to work." Because of her discipline when it comes to her fitness habits, the actress, despite being in her 40s, has awesome abs and toned arms and legs.