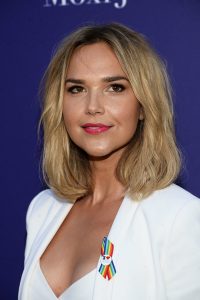 Hollywood actress Arielle Kebbel got her start in the mid-2000s. During her start, she made guest appearances in the shows Judging Amy and Law & Order: Special Victims Unit. Her first notable role was as Lindsay Anne Lister Forester in Gilmore Girls. She next played Taya in Grounded for Life. She also had roles in the movies, such as in Soul Plane, American Pie Presents: Band Camp, Dirty Deeds, Be Cool, and Outlaw Trail: The Treasure of Butch Cassidy. She next starred as Allison Fleming in The Grudge 2.
Subsequently, she starred in the movies John Tucker Must Die, Aquamarine, and The Uninvited. She later became known for playing Alexia "Lexi" Branson in The Vampire Diaries. Following this, she played Vanessa Shaw in 90210, as well as had roles in the films I Melt with You, Mardi Gras: Spring Break, Supporting Characters, and Think like a Man. From 2015 to 2016, she played Tracy Legette in the HBO series Ballers. As of 2017, she plays Olivia Charity in the new series Midnight, Texas. This year, she played Gia Matteo in Fifty Shades Freed.
The 33-year-old actress stays in shape by sticking to a healthy lifestyle. Aside from working out, she also follows a clean diet plan. She sticks to nutritious foods not just to maintain her healthy weight but to also feel great inside and out. Focusing on whole foods rather than processed ones also help her maintain great skin and high energy levels. Hence, eating healthily comes naturally for her because she can see and feel the positive effects in her body and overall well-being.
So, what's exactly her diet like? According to the actress, she focuses on a plant-based diet, so she always incorporates fruits and veggies into her meals. For protein, she gets it from smoothies. In one of her interviews, she also said: "I'm a huge fan of Birds Cafe. A lot of times we'll do dinner with friends at Birds cafe – a quarter chicken with steamed veggies."