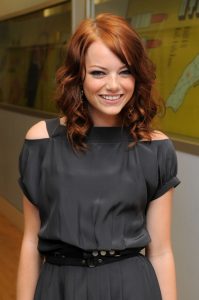 Emma Stone is an American actress who developed an interest in acting since she was a child. Soon, she was able to pursue a career in Hollywood with the support of her family. Her feature film debut was already promising since she played a notable role in the comedy movie Superbad. She went on to play supporting roles in The House Bunny, Ghosts of Girlfriends Past, and a starring role in Zombieland. It was, however, in Easy A, that she got further fame, also earning her a Golden Globe nomination for her performance. She has since starred in Crazy, Stupid, Love and achieved international prominence as Gwen Stacy in The Amazing Spider-Man and The Amazing Spider-Man 2. She was recently nominated for the Academy Award for Best Supporting Actress for her performance in Birdman.
The well-loved actress has climbed the Hollywood stardom purely on talent and charm. Now that she's a huge star, she devotes her time and efforts to producing more high-quality works. Aside from her devotion as an actress, Emma is also known for her slender physique. Her years in the industry hasn't changed anything about her so far. Although she's slim, Emma is fit and healthy, which she maintains through a number of workout routine.
For starters, the actress is fond of rock climbing. Her love of outdoor activities make her one of those people who enjoy sports and other physical activities as forms of exercises. Emma is also known for her declaration of love for Pilates and even weight training. With this, it can assumed that she both loves outdoor sports and indoor exercises as well. When she doesn't have time to go rock climbing or go to a studio, Emma contents herself by walking around or sometimes jogging. For her, it's important that she moves consistently to get her blood flowing.