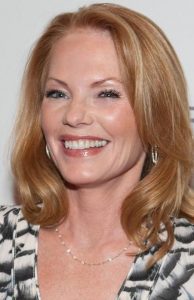 Hollywood star Marg Helgenberger had her beginnings during the '80s. She made her big screen debut in the film Tootsie and played Siobhan Ryan in the ABC series Ryan's Hope. From 1988-1991, she gained wider recognition for starring as Karen Charlene Koloski in the drama series China Beach. The rest of the '90s mostly saw her perform in several TV films. She also played recurring character Karen Hines in ER. In addition, she had supporting roles in the movies Bad Boys and Lethal Vows, as well as starred as Laura Baker in the movie Species and its sequel.
In the 2000s, she landed roles in the movies Erin Brockovich, In Good Company, Mr. Brooks, and Columbus Day. It was also during this period that she got her biggest role thus far — as Catherine Willows in CSI: Crime Scene Investigation. She was part of the main cast from 2000-2012. She returned as a guest star in 2013 and 2015. In 2014, she starred as Lilian Strand in the short-lived series Intelligence, as well as played Christine Price in Under the Dome. Her most recent work as a film actress was in 2016's Holding Patterns.
Apart from her workout routine, the CSI actress chooses her food well. She's since become more conscious of what she puts in her body that she's becoming more inclined to having a cleaner diet. Being the daughter of a meat inspector, though, she said she's not vegan. At least not yet since she's thinking about it. On the other hand, she enjoys fresh, clean foods and she doesn't eat red meat often. "Because of my work schedule, I get food delivered from Freshology. It's healthy. The portions are smaller, but I cheat constantly," said the actress. As for her guilty pleasures? "A glass of wine. And chocolate. I love See's candy and Dove dark chocolate. My favorite is the Nestle 100 Grand bar," revealed Helgenberger.