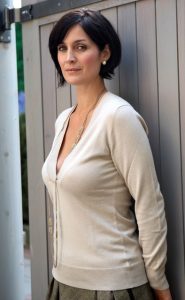 It was in 1991 that Hollywood star Carrie-Anne Moss got her start in the show business. She made her debut as Tara McDonald in the TV series Dark Justice. Afterward, she joined the main cast of the short-lived series Matrix. She next played Carrie Spencer in the show Models Inc. This was followed by another regular gig as Lucinda Scott in the series F/X: The Series. In 1999, she rose to international prominence after she landed the role of Trinity in the movie The Matrix.
She reprised the said role in the sequels The Matrix Reloaded and The Matrix Revolutions. This cemented her fame in Hollywood. Also in the 2000s, she enjoyed popularity courtesy of her performances in the movies Chocolat, Fido, Memento, and Disturbia. In the 2010s, she starred in the features Silent Hill: Revelation, Compulsion, Pompeii, and Frankenstein. Her latest work on the big screen is 2017's The Bye Bye Man. In addition, she played Katherine O'Connell in the TV series Vegas. As of 2015, she plays Jeri Hogarth in the Netflix series Jessica Jones.
The prolific actress manages to stay in shape not only by eating healthy but by also working out. When it comes to her favorite fitness regimen, she said it's "walking and doing a strong yoga set". While she also engages in the physicality of workouts and training, she also focuses on the power of meditation. She believes that being at peace in your mind is equally important as physically breaking a sweat.
She explained: "I practice meditation and kundalini yoga, and I choose to stop and connect to myself through breathing or boiling water for tea and taking a pause. I move fast and I am a high-energy woman, so I need to catch myself, place my hand to my heart, tune into my breath, and remember to be here now."