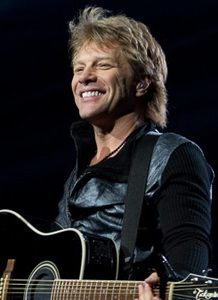 Hollywood singer-songwriter and actor Jon Bon Jovi came to prominence as the frontman of the rock band Bon Jovi. The group released their self-titled debut album in 1984, followed by 7800° Fahrenheit in 1985. They garnered international attention with the release of their third album Slippery When Wet, spawning the hit singles "You Give Love a Bad Name" and "Livin' on a Prayer". Their next album, New Jersey, was also a huge success with the hit songs "Bad Medicine" and "I'll Be There for You".
The band continued its worldwide success during the 1990s. Bon Jovi then pursued an acting career during this period starting with the 1990 film Young Guns II. He next had performances in the films Moonlight and Valentino, The Leading Man, Little City, Destination Anywhere: The Film, No Looking Back, Homegrown, and Row Your Boat. In 1999, he made his television debut with a guest role in Sex and the City.
In the 2000s, he starred in the movies U-571, Pay It Forward, Vampires: Los Muertos, Cry Wolf, and National Lampoon's Pucked. He then played recurring character Victor Morrison in Ally McBeal. Bon Jovi appeared as himself in an episode of The West Wing and 30 Rock. His latest film role was in the 2011 ensemble romantic comedy movie New Year's Eve. In addition, the singer released two solo albums.
Now nearing in his 60s, Jon Bon Jovi keeps in top shape by staying true to his workout routine. He runs six days a week for an hour, lifts weights, and performs stability exercises. Recently, he also swears by yoga. "I was doing workout 101 for years: treadmill, elliptical, weights. Now I'm going to do yoga and enjoy it. I'm a 21st-century man," said the singer-actor. When he's on the road for tours, he makes sure he's on the top of his game – health-wise – by bringing a healthcare professional with him.