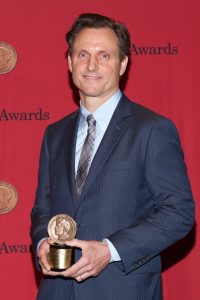 Hollywood actor Tony Goldwyn debuted in the 1986 film Friday the 13th Part VI: Jason Lives. He next had roles in the films Gaby: A True Story and Dark Holiday. During this period, he also made one-time roles in several television shows. In 1990, he became known for his role as Carl Bruner in the movie Ghost. He went on to star in the films Traces of Red, The Pelican Brief, The Last Tattoo, and Reckless.
Goldwyn then portrayed Harold Nixon in the 1995 epic historical feature Nixon. He also played Sir Edwin Wingfield in Pocahontas, after which he starred in 1997's Kiss the Girls. The actor was the voice of Tarzan in the 1999 film of the same name. In the 2000s, Goldwyn had performances in the films An American Rhapsody, Bounce, Abandon, Joshua, The Last Samurai, American Gun, The Sisters, and The Last House on the Left.
He also played recurring role Frank Goren in Law & Order: Criminal Intent. In the 2010s, the actor best best known for his portrayal of President Fitzgerald Grant III in the ABC series Scandal, which he starred in from 2012 to 2018. After this, he starred as Ben Lefevre in the Netflix horror series Chambers. He also had starring/supporting roles in such films as The Mechanic and The Belko Experiment. Also, he played Andrew Prior in Divergent and its sequel The Divergent Series: Insurgent.
Tony Goldwyn maintains his healthy body through regular workouts and healthy diet. Nearing his 60s, he knows it's more crucial than ever to be mindful of his habits. "I have to stay in reasonably good shape so that I'm in striking distance of not being humiliated," he joked. As for his diet, he said he starts his day with "strong black coffee, organic blueberries, Greek yogurt, and a lightly cooked egg white omelet with cremini mushrooms and gruyere cheese." He also prefers fish than meat, which is why he loves sushi.