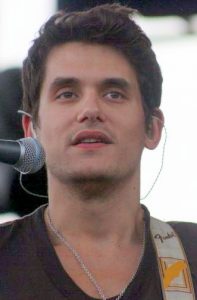 Award-winning singer-songwriter John Mayer first released his EP Inside Wants Out in 1999. Later in 2001, he released his debut album Room for Squares, which generated the hit song "Your Body Is a Wonderland". He was awarded the Grammy Award for Best Male Pop Vocal Performance for said single. His second album, Heavier Things, was released in 2003.
Three years later, Mayer released his third album Continuum, which won him the Grammy Award for Best Pop Vocal Album. The single "Waiting on the World to Change" also won him the Best Male Pop Vocal Performance at the Grammys. He subsequently released Battle Studies in 2009. His fifth album Born and Raised was released in 2012, although it didn't sell as much as his previous albums.
The following year, he released Paradise Valley, his sixth studio album. His latest album is his seventh one – The Search for Everything – which came out in 2017. Mayer has also collaborated with other artists such as B. B. King, Buddy Guy, and Eric Clapton. He also formed the John Mayer Trio and released live album titled Try! in 2005.
In his 40s, John Mayer keeps in good shape by sticking to an active lifestyle. He follows a workout routine designed by his personal trainer. Working out five days a week, he combines throwing punches, kickboxing, and other workouts that target his core muscles. The singer also enjoys Krav Maga, which is a rigorous form of self-defense.
His fitness regimen is also constantly changing, depending on what he feels he needs to work on. He doesn't just rely on his gym training to keep in shape. Living a healthy lifestyle, he plays sports and enjoys other physical activities outdoors.