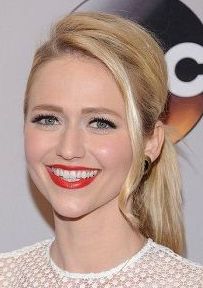 It was in 2004 that actress Johanna Braddy got her start. She first appeared in the made-for-television film Pop Rocks. Later, she voiced Princess Yue in Avatar: The Last Airbender. In 2006, she made her big screen debut in the film Broken Bridges. She next had a voice role in the animated film Surf's Up. Her next roles were in the movies Home of the Giants and Whore. Later in 2009, she played the role of Lisa in the straight-to-video film The Grudge 3.
Back on television, she played recurring character Tammy Simms in the FX series The Riches. She went on to play Olivia Sherman in two episodes of Southland. During this period, she also had performances in the movies Wild About Harry and Hurt. In the 2010s, she played Melody Bostic in the comedy film Easy A. She next starred as Lisa in the horror film Paranormal Activity 3.
Other film credits were in Born to Race, The Collection, Believe Me, and Run the Tide. From 2012 to 2014, she played Jenny Matrix in the web series Video Game High School. After this, she had a recurring role as Mia Sertner in the sports drama series Hit the Floor. In 2015, she starred as Anna Martin in the Lifetime show Unreal. She had her breakthrough role as Shelby Wyatt in the thriller series Quantico.
Apart from her exercise routine, the film and television actress maintain a healthy body by eating well. She doesn't follow any strict diets but she stays away from processed foods as much as she can. Eating junk foods always makes her feel bloated and lethargic. Healthy ones instead, like nuts and fruits, give her an energy boost. Her meals mainly consist of lean proteins, whole grains, and healthy fats. She's also big on fruits and vegetables, which she incorporates into all her meals everyday.