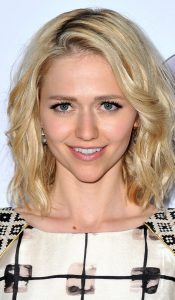 Hollywood star Johanna Braddy had her career beginnings in the mid-2000s. She debuted in the 2004 TV movie Pop Rocks, after which she appeared in the pilot episode of Surface. She next voiced Princess Yue in the animated series Avatar: The Last Airbender. In 2006, she made her cinematic debut in the film Broken Bridges. Subsequently, she had roles in the films Home of the Giants, Whore, Wild About Harry, and Hurt. She had notable roles as Lisa Morrison in the straight-to-video film The Grudge 3 and Melody Bostic in the comedy feature Easy A.
Back on television, she played recurring roles Tammy Simms in The Riches and Jordan Reed in Greek. Continuing her acting in the 2010s, she had performances in the movies The Levenger Tapes, Paranormal Activity 3, Born to Race, The Collection, and Run the Tide. She also starred as Jenny Matrix in the web series Video Game High School. After starring as Anna Martin in Unreal, she became widely known for her role as Shelby Wyatt Quantico. She was part of the show's main cast from 2015-2018. It aired on ABC for three seasons.
The 31-year-old actress maintains her slender physique by following a clean diet and staying active. As for her fitness regimen, she makes sure she exercises as regularly as possible. Starring in the action-oriented series Quantico, the actress also knew she had to up her workout routine in order to improve her strength and agility. As for her go-to workouts? In an interview, she revealed what her favorite exercises are. She said: "I love cardio barre and "piloxing," which is Pilates, boxing and a little dance mixed in. You wear weighted gloves and punch. You don't look cool, but you feel great!" She also loves to do outdoor exercises such as hiking and playing sports as they don't make her feel like she's working out.