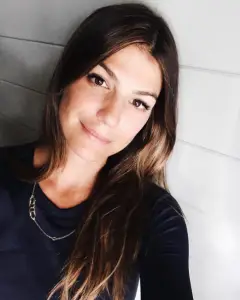 Hollywood actress Genevieve Padalecki started her professional acting career in 2004. She debuted in the independent film Death Valley. She next played the role of Ashley Harris in the comedy film Kids in America. On television, she had her first role in an episode of The Dead Zone. That same time, she also starred as the lead role Kris Furillo in the television series Wildfire.
She starred on the show that aired on ABC Family from 2005 to 2008, gaining her recognition. She simultaneously had performances in the movies Bickford Shmeckler's Cool Ideas and Salted Nuts. After Wildfire ended, she landed the role of Ruby in The CW show Supernatural, playing the part from 2008 to 2009. She next played Tracy Stark in the ABC series FlashForward. She returned in an episode of Supernatural in 2011 as herself. The following year, she starred as Veronica in the feature film Hated.
Now a mother of three, the actress stays in shape by following a gluten-free diet. She's also very mindful of the food she eats, planning her and her children's meals every day. She starts her day with warm lemon water mixed with ginger and maple syrup. For breakfast, she loves having oatmeal or egg. Sometimes, it's granola or gluten-free pancakes or cereal.
Other days she has ground turkey breakfast tacos or a quinoa banana muffin with Greek yogurt.
Lunch for her is mostly proteins like a turkey sandwich on gluten-free bread and chicken salad. Every now and then she also has a hamburger for lunch as long as it has gluten-free buns. And dinner is typically grilled chicken salad, salmon, or chicken fingers. She loves cooking so she loves mixing things up using healthy ingredients. In between these meals, she also snacks on healthy foods. Some of her favorites are nuts, fruits, veggies, and gluten-free granola bars.