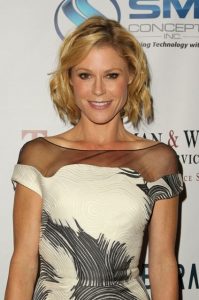 Hollywood star Julie Bowen had her beginnings in the early 1990s. Her first notable role on television was as Andie McDermott in the series Extreme. She later played Roxanne Please in the series ER. During this period, she has also appeared in the movies Runaway Daughters, Happy Gilmore, and Multiplicity. In the 2000s, she became known for her role as Carol Vessey in the NBC series Ed. She later portrayed Sarah Shephard in Lost and Denise Bauer in Boston Legal.
In 2009, she started playing the role of Claire Dunphy in the ABC comedy series Modern Family, which has since brought her acclaim and recognition. Her role her got her Primetime Emmy Award nominations for Outstanding Supporting Actress in a Comedy Series, winning twice. In the 2010s, she has also appeared in the films Crazy on the Outside, Horrible Bosses, Planes: Fire & Rescue, and Life of the Party.
For her fitness and overall health, the actress tries her best to stay active. She revealed that she previously was into yoga before. But that all changed when she became busier with acting and motherhood. She realized it took more time, something she doesn't have. The only exercise viable to her that can work with her crazy schedule is running. In an interview, she went on to say:
"Now the most efficient workout is to run. You can do it anytime, anywhere with a pair of shoes. So no matter where I am I can go out my front door and 45 minutes later I've had a great workout." To be able to do it on a regular basis, she wakes up at around 4 am. "I'm an early riser and I always have been. I like to get up and get the exercise out of the way as fast as I can," she said.