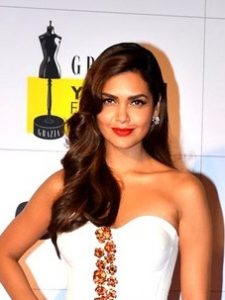 Indian actress was first Miss International – India in 2007 prior to pursuing an acting career. As expected, she received movie offers from producers, which she ultimately accepted. In the 2010s, she began acting in films. Her debut was in the feature film Jannat 2 released in 2012. For her debut, she got a nomination for the Filmfare Award for Best Female Debut. That same year, she starred in two other films. She next made a special appearance in Gori Tere Pyaar Mein. She next starred in Humshakals. This year, she starred in Rustom. This got her a Supporting Actress nomination at the Stardust Awards. She continues to be active in the Bollywood industry.
The 31-year-old actress is notable for her beauty, talent and slender figure. She's not only slender, she's also fit, lean and healthy. All this she gets from living a healthy life. Despite her busy acting career, Esha makes it a point to take care of herself. She allots time to work out. She also practices self-discipline, so she can always eat healthy foods. Basically, she stays away from oily, starchy foods. She also avoids eating foods that are high in sugar. With this, she maintains her slim body and gets sufficient energy levels daily.
When asked for beauty tips, she said: "Drink lots of water throughout the day even if you don't feel thirsty. [Secondly], avoid smoking, as it causes your skin to age faster." As for her diet, she's a vegetarian. This means she follows a basic diet. She changes this every week. With her eating regimen, she mostly eats fruits and vegetables. She also gets her protein from alternatives like soy. She also eats whole grain oats or cereals with soya milk. With this kind of diet, she spares herself from the high calories and fat she can get from meat.