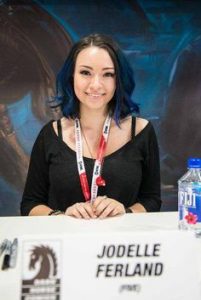 Hollywood actress Jodelle Ferland is a Canadian whose talent has since become recognized in the US. She started her acting career when she was 5, making her debut on the TV series Cold Squad. She next starred on the TV movies Mermaid and Special Delivery. Her movie debut was in 2000's The Linda McCartney Story. Her first notable role was in the horror feature Silent Hill, after which she appeared in the films The Messengers, Good Luck Chuck, and BloodRayne II: Deliverance. On television, her first starring role was on Kingdom Hospital. In the 2010s, she became further known for playing Bree Tanner in The Twilight Saga: Eclipse. Her most recent work was in the 2017 straight-to-video Bigger Fatter Liar. She also currently stars on the TV series Dark Matter as Five.
The 23-year-old actress tries her best to live a healthy lifestyle by focusing on eating healthy foods. Despite of the temptation with so many processed foods around here, she has her priority and that is to maintain her slender and healthy body. Despite her young age, she understands the importance of healthy eating. She knows that how she eats will manifest not only physically, but also mentally. Even with her healthy lifestyle, she also knows how to create a balance in such a way that she allows herself to indulge in her cravings every now and then.
She concentrates on eating clean and healthy foods. These mostly are lean proteins, whole grains and oats, as well as fruits and veggies. In the morning, she begins her day with a healthy breakfast consisting of eggs, toast, and a fresh fruit juice. This helps her retain her energy throughout the day, allowing her to work as an actress more efficiently. She also snacks on some almonds, yogurt, and fruits whenever she gets hungry. Her lunch and dinner mostly involve pasta or rice, and fish or chicken. She just makes sure she incorporates fruits and vegetables in all her meals.