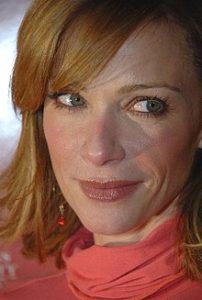 American actress Lauren Holly had her career beginnings in 1984. She first debuted in 2 episodes of the TV series Hill Street Blues. From 1986 to 1989, she starred as Julie Chandler in the soap opera All My Children. As a movie actress, she debuted in the 1985 film Seven Minutes in Heaven. During the '90s, she gained recognition for her role as Maxine Stewart in the family drama Picket Fences.
She later played the part of Dr. Jeremy Hanlon in the medical drama series Chicago Hope. She simultaneously had roles in the films Dragon: The Bruce Lee Story, Dumb and Dumber, Sabrina, Beautiful Girls, Turbulence, and Any Given Sunday. In 2001, she portrayed Ethel Kennedy in the TV movie Jackie, Ethel, Joan: The Women of Camelot. Between 2005 and 2008, she starred as NCIS Director Jenny Shepard in NCIS.
She also starred in the feature films What Women Want, The Godfather of Green Bay, and The Perfect Age of Rock 'n' Roll, among others. Continuing her acting career in the 2010s, she starred as Dr. Betty Rogers in the Canadian series Motive. She recently played a recurring role, Lynn Harper, in Designated Survivor. She also starred in the films The Blackcoat's Daughter and Tammy's Always Dying.
Lauren Holly stays fit and strong by exercising and eating a healthy diet. She credits her healthy figure to her vegetarian diet. Now she avoids meat and sticks to a plant-based diet, which works out for her in the end. Talking about her diet plan, she said: "If you had asked me six months ago, I'd have said everything. Since then I've pretty much cut out meat and fish. I'm pretty much a vegetarian."