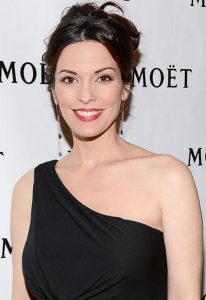 Hollywood actress Alana de la Garza had her career beginnings in the late 1990s, making her debut in the TV series Mortal Kombat: Conquest. She next had a recurring role on the soap opera All My Children. Her first starring role on television was as Maria Serrano in the short-lived series The Mountain, airing from 2004 to 2005. She next became known for her recurring character Marisol Delko in CSI: Miami.
Further success came after landing the role of Connie Rubirosa in Law & Order. In 2011, she reprised her role in the short-lived spin-off Law & Order: LA. Her next regular gigs were in the short-lived shows Do No Harm and Forever. Her latest role was as Clara Seger in the short-lived show Criminal Minds: Beyond Borders. In addition, she's also appeared in the films Are You Here and Mr. Fix It.
The 42-year-old actress remains youthful and fit thanks to her healthy lifestyle. She keeps herself active and tries her best to eat healthily. Sticking to a clean diet plan hasn't always been easy for the television star, who admits that she loves food and can't resist her favorites. "I love food. Especially holiday food, like green bean casserole, mashed potatoes, biscuits and pie. Yummy," she said.
Nonetheless, she's still health conscious, especially when she's noticing that she's packing some more pounds due to her indulgences. She said: "Every couple of months I check myself in the mirror. If I go, 'Your jeans look a little tight,' it's time to cut out the nachos." So, she also focuses on having some clean foods which usually consist of lean proteins, fruits, veggies, nuts, and whole grains. Of course, she knows not to deprive herself of the foods that she loves so she continues having them, just in fewer amounts. For her, portion control is crucial.