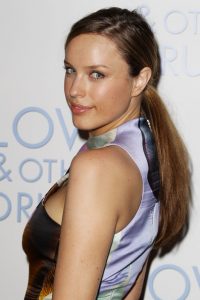 It was in 2007 that actress Jessica McNamee got her start. She debuted as guest role Lisa Duffy on the long-running Australian soap opera Home and Away. Following this, she landed her first notable role as Sammy Rafter on the Aussie program Packed To The Rafters. She was part of the show's main cast from 2008-2010. She returned in 2013 as a guest star. In 2009, she competed on the reality show Dancing with the Stars. She came out as sixth place. Afterward, she made her big screen debut in the 2010 feature The Loved Ones.
Shortly after, she made her Hollywood debut as Gwen Thornton in the romantic drama The Vow. This was followed by a guest appearance as Penny Chase on the USA Network series White Collar. She still continued her work in Australia, playing a recurring role on The Time of Our Lives. From 2014 to 2015, she starred as Theresa Kelly on the short-lived comedy series Sirens. In 2017, she starred in 3 films: CHiPs as Lindsey Taylor, Battle of the Sexes as Margaret Court, as well as in the independent film The Neighbour. This year, she starred in the movie The Meg.
Playing a cop in the movie CHiPs, the actress knew she had to take her workout routine to the next level. "Training for CHiPs was interesting, because outside of stunt dive training, I just had to be in shape—cops are really physically fit. So that was just my usual training routine," said the actress.
"I was just doing a lot of Pilates, yoga, hiking, and running, mixing up my activities. Even though I prefer working out in the afternoon because it's when I have the most energy, I learned I needed to train in the morning, otherwise, my day gets off to a slow start." She also shared that despite mixing things up, yoga remains something that's part of her lifestyle.