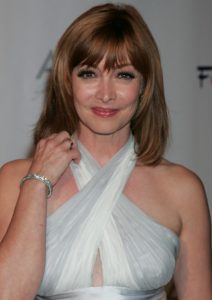 Hollywood star Sharon Lawrence debuted with a one-time role on the TV series Sharon Lawrence in 1992. Afterward, she landed her first regular role on television, playing Sylvia Costas on NYPD Blue. She was part of the show's main cast from 1993-1999. While on the series, she starred as Gwen Leonard on Fired Up. After NYPD Blue, she starred as Donna Stiles on Ladies Man. She starred in several TV films during this period as well. In the 2000s, she starred as Vivian Cates on the short-lived program Wolf Lake, after which she played Maisy Gibbons on Desperate Housewives.
She also had a recurring character as Linda Fusco on Monk. Being a prolific TV star, she played Tess Wiatt on Hidden Palms and Jayne on The Line. It was also during this period that she became more active on the big screen, having performances in Gossip, Little Black Book, and The Alibi. In the 2010s, she had roles in the films The Perfect Family, Middle of Nowhere, Jimmy, and Solace. Back on television, she played Bobbie Dobkins on Drop Dead Gorgeous, Sylvia Baker on One Tree Hill, Dr. Hope Martin on Rizzoli & Isles, and Margo Mierzejewski on Shameless. She recently played Laura Van Kirk on the show Dynasty.
Apart from her diet plan, the actress maintains her slender physique by engaging in a regular workout routine. Her age doesn't stop her from having an active lifestyle. As a matter of fact, that even motivates her even more. When asked what her workout routine is in an interview, she said: "I do three to four spinning classes a week, yoga two to three times a week, and now I'm dancing in "Chicago" eight times a week." She also does yoga as her way of relaxing. Not only does it calm her mind, but it also helps her maintain a healthy weight.