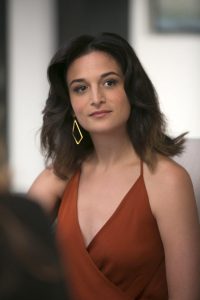 It was in 2005 that actress Jenny Slate started her career. She first had an uncredited role in an episode of Starved. She next appeared with a one-time role on The Whitest Kids U' Know. Her first notable role was as Jenny the Page on Late Night with Jimmy Fallon. At the same time, she had a two-episode role on the Fox sitcom Brothers. She later joined the cast of Saturday Night Live, appearing on the show from 2009-2010. Meanwhile, she made her cinematic debut as Zoe in Alvin and the Chipmunks: Chipwrecked. After this, she appeared as Emily in This Means War and was the voice of Mrs. Wiggins in Lorax. She also became known for her recurring role as Stella on the TV series Bored to Death.
In 2012, she started voicing the role of Rosa on Bob's Burgers. She continues to do so up to present. Other roles on television during this period include Tally Schifrin on Girls and Amelia Gordon on Hello Ladies. She next performed on the sketch comedy series Kroll Show, played Sarah Guggenheim on House of Lies, and Mona-Lisa Saperstein in Parks and Recreation. In 2014, she made her film breakthrough playing the lead Donna Stern in the independent film Obvious Child. She won awards for her performance here, including the Critics' Choice Movie Award for Best Actress in a Comedy. She was also nominated for an Independent Spirit Award for Best Female Lead. She has since starred in the films The Longest Week, Zootopia, The Lego Batman Movie, Gifted, Hotel Artemis, and Venom.
Apart from trying her best to stay in shape by eating clean, the actress also maintains her healthy body by living an active lifestyle. Though she's not into doing any intense workout routine, she gets her body moving by simple exercises, such as running and walking. Her lack of gym motivation she makes up by engaging in outdoor activities and playing sports. Overall, the actress believes in the importance of simply staying active. She doesn't need to follow any rigorous workout regimen to stay fit and healthy.