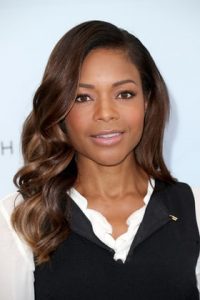 Naomie Harris started her career as a child actress. She debuted as Joyce in the children's series Simon and the Witch during the 1980s. The following decade, she starred as Shuku in another children's show Runaway Bay. Harris later played the role of Ami Jackson in the TV series The Tomorrow People, which she starred in from 1992 to 1995. In the 2000s, she first had roles in the films Living In Hope and Anansi before rising to fame for her role as Selena in 28 Days Later.
She next appeared in 4 episodes of White Teeth, as well as starred in the TV film The Project. Her next role was as Romana in 2 episodes of Dinotopia. Following this, she starred in the movies Trauma, After the Sunset, Miami Vice, and A Cock and Bull Story. The British star became further known for her role as Tia Dalma / Calypso in 2006's Pirates of the Caribbean: Dead Man's Chest. She reprised her role in the sequel Pirates of the Caribbean: At World's End.
Afterward, she starred in the features Street Kings, Explicit Ills, August, Morris: A Life with Bells On, Ninja Assassin, Sex & Drugs & Rock & Roll, and My Last Five Girlfriends. Also in 2008, she played the lead in the TV movie Poppy Shakespeare. In 2012, she portrayed Eve Moneypenny in the James Bond film Skyfall. She reprised her role in Spectre. More recently, she starred in the movies Rampage and Mowgli: Legend of the Jungle. She'll reprise her role as Eve Moneypenny in the upcoming James Bond film Bond 25.
The British actress eats well and trains diligently to stay in her top shape. Looking fit and feeling great also proves to make her more efficient at her job. In an interview, she was asked what her diet plan was. "I'm very lucky with my figure, I've got a great metabolism but working on the Bond films has certainly set me on a bit of a health trip. I never drink and I eat very healthy," said Harris.
"I tried the whole raw-food diet thing but got ill. I became so ill and was anemic, so I stopped that and became a vitamin junkie. I just ate lots of vegetables and exercised. My diet is very balanced, and I really grew to love the benefits – having a lot more energy and feeling a lot more alive and sleeping better and eating better."