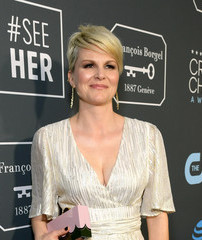 Canadian star Jennifer Robertson had her entertainment beginnings in the late 1990s. Her first gig was in the comedy series SketchCom. She landed more roles in the 2000s, mainly on television. Initially, she had brief roles in such shows as Twice in a Lifetime and Point Blank. She next guest-starred in The Gavin Crawford Show. In 2002, she was a writer for the show The Holmes Show.
She then appeared in 6 episodes of the TV programs The Seán Cullen Show and This Hour Has 22 Minutes. Robertson gained wider recognition for being a regular cast of the sketch comedy series Comedy Inc. During this period, she also starred in several television films, including Twitches and Relative Chaos. She also played Jennifer Lange in the satire news show The 1/2 Hour News Hour. In the 2010s, she first had a recurring part as Cece Goldsworthy in the teen drama Degrassi: The Next Generation.
Shortly after, she starred as Angela Montclaire in the teen sitcom Wingin' It. After more recurring roles in Little Mosque on the Prairie and Mr. D, she became the host of the show Canada's Handyman Challenge. Robertson came to wider prominence recently for her role as Jocelyn Schitt in Schitt's Creek. She is set to star in the upcoming Netflix series Ginny & Georgia. To add, the actress has also had performances a couple of other TV movies, as well as in the films Sassy Pants and Undercover Grandpa.
Jennifer Robertson stays in great shape by watching what she eats. To maintain a healthy weight, she limits eating fatty foods and consuming carbs. She doesn't believe in any dieting tricks, though. It's all about exercise, nutritious eating, and moderation for her. Her diet plan typically includes healthy fats like fish and nuts, lean protein, and plenty of fruits and veggies. Despite her crazy schedule, she makes efforts to eat healthy meals most of the time. In the morning, that's usually egg and toast with almond butter and some fruits. For lunch and dinner, she prefers light meals that consist of fish or chicken with salads on the side.