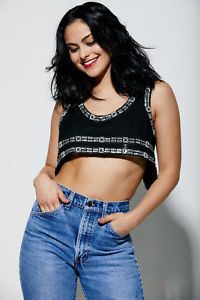 It was only recently that Hollywood star Camila Mendes got her start in the show business. After graduating from New York University Tisch School of the Arts, she embarked on an acting career. She auditioned for The CW's Riverdale and successfully landed the role of Veronica Lodge. This officially marked her television debut when she started playing the said role in 2017. With the series being an instant success, the actress has since garnered international recognition, specifically among the young audience.
The show just concluded its second season and will return for its third, continuing Mendes' success as an actress. This also paved the way for her to start a modeling career, having been featured in several prominent magazines and ads. In addition, she's also won the Choice Scene Stealer Award at the Teen Choice Awards last year. She has two upcoming movies this year – The New Romantic and The Stand-In; with the former being her cinematic debut if it becomes released first.
The actress works out, which is why she has an amazing figure. She also eats healthily. On the other hand, she also acknowledges the pressures of staying slim. Now that she's older, she realized there's no use to trying her best for the sake of losing weight. Staying healthy is all good but wanting to be thinner is a different story. So, she said no more to dieting and depriving herself of food. She said: "Somehow I had stripped myself of all the pastimes that brought me joy, and all that was left of me was my anxiety around food."
"Your body type is subject to genetics, and while eating nutrient-dense foods and exercising regularly will make you healthier, it will not necessarily make you thinner, and the current system fails to make that distinction," she went on to say.