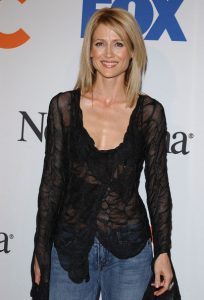 It was during the 1980s that Kelly Rowan started her professional acting career. Her television debut was in Hangin' In while her first movie role was in My Pet Monster. She next appeared in the feature film The Gate. The rest of the '80s saw her appear in a couple more TV films, as well as made guest appearances on several TV shows. During the '90s, she had performances in the films Hook, Assassins, Candyman: Farewell to the Flesh, One Eight Seven, and Three to Tango.
Her first starring role was as Mattie Shaw on the short-lived show Lonesome Dove: The Outlaw Years. She next starred in the TV movies A Match Made in Heaven, Anya's Bell, and The Truth About Jane. From 2002-2003, she played Marian McNorris on the NBC series Boomtown. Afterward, she became known for her role as Kirsten Cohen on The O.C., starring on the show from 2003-2007. Continuing her career in the 2010s, she starred as Natalie Vincent / Dr. Caroline Newsome on the TNT series Perception, which aired on TV from 2012-2015. Other film credits include Proximity, Jack and Jill vs. the World, Mount Pleasant, and Rufus.
Kelly Rowan's principle of health and fitness is quite simple — eat healthily and stay active. As for her workout routine, she also takes it easy. "If I can get to the gym three days a week I'm lucky. I don't beat myself up with things like, 'I didn't go to the gym today, I'm so bad', because that's not helpful," said the actress. But when her schedule permits her to exercise, she mixes things up to maximize the fun. She runs and also hits the gym when her schedule permits her and do things like hiking and other outdoor activities. She admits that even though she's not exercising on a regular basis, she tries to stay fit and healthy by sticking to clean diet.