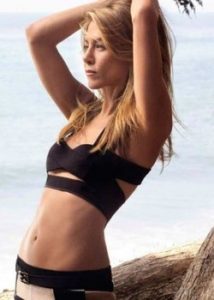 Jennifer Aniston is an American actress who rose to international stardom as Rachel Green on Friends. Her work on the sitcom not only made her super rich, it also made her a certified A-list actress made more intense by her marriage to Brad Pitt at the time. This also led her to star in a couple of films while still on the show, such as in The Object of My Affection, The Good Girl, Bruce Almighty, and Along Came Polly. After Friends ended in 2004, she starred in mostly romantic comedy and comedy films, such as The Break-Up, Marley & Me, Just Go with It, Horrible Bosses, and We're the Millers. She has also taken dramatic roles like in the indie movie Cake, for which her performance was acclaimed.
At age 47, Jennifer Aniston is People Magazine's World's Most Beautiful Woman in 2016. With her amazing looks despite her age, it is apparent that the actress takes care of herself really well. With her sexy dancing in We're the Millers, viewers were also able to see how she has managed to maintain her rocking body. Aside from clean and healthy eating, Jennifer works out with discipline, resulting to her now incredible figure. For ten years, she has been working with celebrity trainer Mandy Ingber, who said that yoga is something that really helped the actress maintain her healthy body.
According to her, Jennifer works out three times a week and start warming up with cardio exercises. After this, they go to their yoga routine. Cardio includes 20 to 25 minutes of spinning, followed by 45 minutes of yoga with sun salutations, warrior II, triangle, and other standing poses. Interestingly, Jennifer is fond of balancing poses, including the like tree, half-moon pose, and warrior III. The actress also likes to plank as this is a good routine for the abs. In addition, Jennifer practices meditation, a 5-minute shavashana, which completes her workout session.