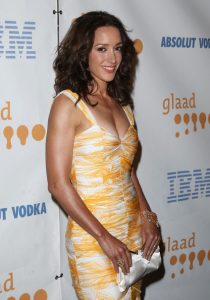 It was in 1980 that Jennifer Beals started her Hollywood journey. She made her debut with an uncredited role in My Bodyguard. She then landed the role of Alex Owens in the movie Flashdance, which catapulted her to fame. In the 1990s, she starred in the films Mrs. Parker and the Vicious Circle, Devil in a Blue Dress, and The Prophecy II. Her first starring role on the small screen was on 2000 Malibu Road. From 2004 to 2009, she was known for starring as Bette Porter on The L Word. She next starred as Zoe Landau on Lie to Me. She went on to star on the short-lived shows The Chicago Code and Lauren. In 2015, she played the lead on the short-lived series Proof. She also starred on the TV series Taken and has recurring characters on The Night Shift and The Last Tycoon.
She may already be in her mid-50s, but the Flashdance star keeps her body in top shape. She does so by eating a healthy diet and working out on a regular basis. Instead of following a strict and specific training regimen, she keeps it simple and cool by applying varied exercises. When asked about her favorite workout in an interview, she said: "I like to rotate my workouts, but I love to swim. That being said, I'm enjoying being on a bit of a yoga bender right now."
She also revealed her entire fitness routine in another interview: "I swim, run and occasionally cycle. I'm trying to incorporate more yoga and ballet into my life. However, I have to say, open water swimming is my favorite form of exercise—maybe because when everything is going just right it feels like flying. It feels like I've escaped gravity's pull and am meditating in motion." With her active lifestyle, it's no wonder that Jennifer Beals looks fabulous!