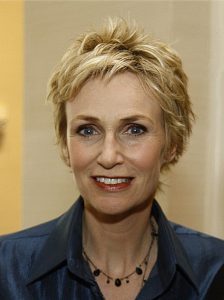 Hollywood star Jane Lynch had her beginnings in the '80s, debuting in the film Vice Versa. During the '90s, she appeared in the movies The Fugitive and Fatal Instinct. At the same time, she also had guest appearances on a variety of TV shows. This includes Married… with Children and Party of Five. She next starred as Aileen Poole in the short-lived show MDs. Her first notable role on television was as Dr. Linda Freeman in the sitcom Two and a Half Men. She simultaneously played recurring character Joyce Wischnia in The L Word, as well as played Victoria Ratchford in Lovespring International.
Other recurring roles during this period were as Diana Reid in Criminal Minds and Joanna Monroe in Boston Legal. From 2009-2010, she starred as Constance Carmell in the Starz series Party Down. It was, however, her role as Sue Sylvester in the Fox series Glee. For her performance, she won a Primetime Emmy Award for Outstanding Supporting Actress in a Comedy Series in 2010. She was also nominated twice in 2011 and 2013. While on the show, she had roles in the feature films Paul, The Three Stooges, A.C.O.D. and Afternoon Delight. As of 2013, she hosts the NBC show Hollywood Game Night. She also guest-starred in an episode of The Marvelous Mrs. Maisel, for which she was nominated for an Emmy for Outstanding Guest Actress in a Comedy Series.
The acclaimed actress maintains her good health by focusing on a plant-based diet. "I am a "green eater." By that I mean that I eat a salad with every meal, every day based on spinach or arugula or other dark leafy — as well as smoothies with kale or another green in the morning. I didn't always eat this way, but now that I do, it's a strong habit," said the former Glee actress. She also believes in the importance of practicing moderation.