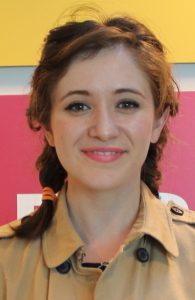 Noël Wells first appeared in the 2013 independent film Forev. On television, she initially had a one-time gig in The Aquabats! Super Show! She had her break after getting cast as a featured player in the sketch comedy series Saturday Night Live. She starred on the said television show from 2013 to 2014. After leaving the program, she had voice roles in the animated series The Awesomes and Gentleman Lobsters.
She also had a starring voice role in Wander Over Yonder, as well as appeared in an episode of Comedy Bang! Bang! Between 2015 and 2017, Wells became widely known for her role as Rachel in Netflix's Master of None. She simultaneously guest-starred in The UCB Show, Loosely Exactly Nicole, and American Dad! At the same time, she had performances in the films Dreamland, The Incredible Jessica James, and Infinity Baby.
She then ventured into writing and producing with the film Mr. Roosevelt, which she also starred in. Wells went on to star in the movies Happy Anniversary and Social Animals. As of 2018, she voices the role of Kelsey in the animated program Craig of the Creek. She will star in the upcoming animated series Star Trek: Lower Decks. She also starred with a voice role in the animated film The Adventures of Drunky.
The 33-year-old Noël Wells stays in shape by choosin her foods well. While she doesn't have any specific diet plans, she keeps her body fit and healthy by practicing portion control in her meals. Binge-eating is a big no-no for the comedic actress. And while she's also health conscious, she doesn't believe in any strict diets. She allows herself to eat what she wants, as long as she does so in moderation. Her diet plan is primarily a plant-based diet one with protein intake from such foods as fish and chicken.